Competence team blow molding technology
Consulting, projectmanagement, development, design, authorized expert for mechanical engineering and plant construction
Your first point of contact for construction + development blow molding machines + reworking devices.
Steffen Frey, mechanical engineer
General manager of Sagittarius GmbH, 53757 Sankt Augustin www.Sagittariusgmbh.de
Many years of experience in the construction of plastic processing machines, blow molding machines and finishing lines
Now simply call Mr. Frey+49(0)2241 49 38 855
or contact us via e-mail:info@sagittariusgmbh.de
Consulting, projectmanagement, development, design, authorized expert for mechanical engineering and plant construction
Overview:
In the field of project planning, project management, mechanical engineering for the mechanical engineering and the plant construction, we can offer the following to our customers:
• Consulting
• Project planning and project management
• Development and machine design
• Calculation and finite element simulations
• On-site support for technical questions worldwide
• Process optimization
• Advice in the field of machine safety and regarding the Machinery Directive MRL 2006/42/EG
• Expert activity for machines and plants (We are member of the Association of German Experts and Specialists BDSF.)
• Production of machine assemblies and devices.
Consulting & projectmanagement:
In the field of project planning and project management, we have extensive, international experience which we can incorporate into our projects.
The scope of services is as follows:
• Technical advice
• Support in sales and project planning
• Support in project management
• Planning and creation of plant layouts
• Management and support of development projects
• Assessment of used machines for overhauls, conversion and retrofitting with regard to a product change, a performance increase or to determine the cost-benefit ratio
• Process analyzes and process optimization of processes in machines or production plants
• Instructions and complete documentation
• Risk assessments according to DIN EN ISO 12100, declaration of conformity / manufacturer's declaration
• Handling of questions concerning the Machinery Directive 2006/42/EG
• Trouble shooting and support worldwide
Engineering:
• In the field of engineering, we would be happy to support our customers in order to balance capacity bottlenecks or to process complete projects.
• Particularly in mechanical development and design, we bring in sound knowledge and experience, which is as follows:
• Design and construction of machines and assembly groups
• Provision of layouts, 3D data and production drawings in all common formats
• Provision of parts lists and order documents
• Creation of assembly drawings
• Preparation of assembly drawings (explosion drawings)
• Preparation of assembly schedules and assembly animations
• Creation of 3D motion simulations (in real-time)
• Conventional design and calculation of mechanical components
• Finite element analysis in the static range and comparison with a structural engineer
Expert activity:
I am a member of the Federal Association of German Experts and Specialists BDSF. I offer the following services in the field of machinery and equipment:
• damage report
• Cause report
• Valuation report
• Arbitration report
• Court opinion
• Consulting regarding technical issues
• Calculation and finite element analysis
• Advice in the field of machine safety and regarding the Machinery Directive MRL 2006/42/EG (We are certified by the personal certification body PersCert TÜV with the certification-no. 2700798)
Manufacturing & assembling:
In our shop floor in Sankt Augustin, near Bonn, we can assemble machine groups and machines, electrically wire, pneumatically and hydraulically hosing or piping and commissioning if necessary. Machining possibilities in the machining area and the possibility of manufacturing welding constructions are also available. CNC machining facilities are also available at the site. This results in the possibility of carrying out modifications to the supplier parts and repairs to machines and, if necessary, increasing the production depth. We will be pleased to assist you in the case of bottlenecks with installation personnel or during the relocation of machines as well as in the repair, overhaul, conversion and retrofitting of machines. We can offer the services on the basis of a work contract at a fixed price and thus assume responsibility, logistics and coordination.
Possibilities on our site:
Shop floor: area approx. 450 sqm
Shop floor height: approx. 9 m
Deck crane: 3.5 t
Forklifter
Conventional milling machines and turning machines
Access to CNC manufacturing in the home
Good connection to infrastructure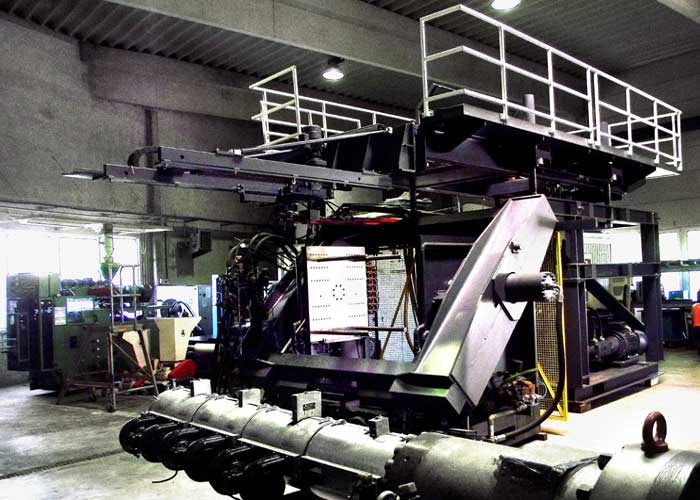 Now simply call Mr. Frey on the topic of construction / development:
+49(0)2241 49 38 855